'Retina-in-a-dish' research model: Miami biologists Katia Del Rio-Tsonis, Michael Robinson, Natalia Vergara Ph.D. '08 win second place in the 3D Retinal Organoid Challenge (3D ROC)
The research team's retinal organoid model is highly reproducible, making it useful for high-throughput drug screening, according to the National Eye Institute's 3D ROC judges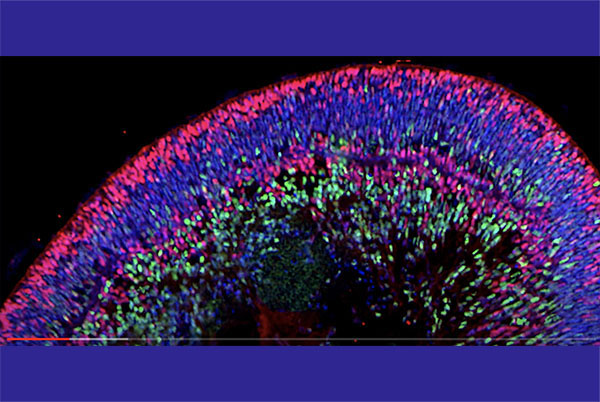 Retinal organoid showing radial Muller glia and a well-organized outer layer consisting of photoreceptor cells. Image credit: M. Natalia Vergara and M. Valeria Canto-Soler
'Retina-in-a-dish' research model: Miami biologists Katia Del Rio-Tsonis, Michael Robinson, Natalia Vergara Ph.D. '08 win second place in the 3D Retinal Organoid Challenge (3D ROC)
Retinal organoid showing radial Muller glia and a well-organized outer layer consisting of photoreceptor cells. Image credit: M. Natalia Vergara and M. Valeria Canto-Soler
Katia Del Rio-Tsonis and Michael Robinson, professors of Biology at Miami University, are part of a team led by M. Natalia Vergara, Miami Ph.D. '08, that received second place and $250,000 in Phase III of the National Eye Institute's 3D Retinal Organoid Challenge (3D ROC). 
 A retina organoid is similar to a human retina but it's grown in a lab from stem cells. The 3D ROC asked researchers to recreate the complex cellular and neuronal circuitry of the retina in reproducible, outside-the-body systems that could serve as a platform for research and drug development.
"The retina is an amazingly complex tissue, with neuronal circuitry and layers of support cells that all interact to give us functional vision," said Tom Greenwell, director of NEI's Office of Regenerative Medicine.
"This challenge was designed to help research teams develop new retina-in-a-dish research models that can be used to accelerate vision research and bring us closer to treatments for eye diseases. Organoids like those produced by our three winning teams are an exciting new tool in our research toolbox."
Vergara's team was recognized for the development of a retinal organoid model that is highly reproducible, making it useful for high-throughput drug screening, according to the NEI.  
Their project, "Improved Fluorescent Reporter Quantification-Based 3D Retinal Organoid Paradigms for Drug Screening," was also awarded first place and $60,000 in Phase II of the challenge in 2020. 
Below, left to right: Katia Del Rio-Tsonis, Michael Robinson, M. Natalia Vergara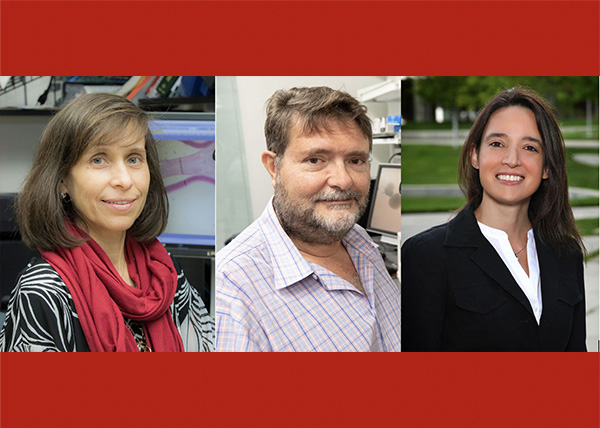 Vergara, currently assistant professor of Ophthalmology at the University of Colorado School of Medicine, received her doctorate from Miami in 2008, working with adviser Del Rio-Tsonis on the mechanisms of lens and retina regeneration. She then completed a postdoctoral fellowship with Del Rio-Tsonis from 2008-2009 on the regenerative biology of the eye. 
Del Rio-Tsonis' eye regeneration lab focuses on understanding the cellular and molecular events that take place during eye tissue regeneration, using several animal models including the embryonic chick, newts, and axolotls. She and her lab have developed innovative tools to unravel the molecular mechanisms that orchestrate events during regeneration.  
This month she was awarded a grant from the NEI for $216,750 to support her project "Inflammation is a driver of newt lens regeneration."
She is a co-principal investigator with Hui Wang, associate professor of Chemical, Paper and Biomedical Engineering, on a project funded by the National Institutes of Health for using optical coherence tomography (OCT) to acquire high-quality images of the process of newt lens regeneration. 
The Robinson lab focuses on the developmental genetics of vertebrate eye development with a special emphasis on lens development and retina regeneration. Two main projects are: to understand the role of FGF receptors in lens fiber cell differentiation; and to discover the transcriptional targets of FOXE3, a transcription factor that is essential for normal lens and eye development, and determine how FOXE3 regulates lens gene expression. 
This year he was awarded a $216,750 grant from the National Institutes of Health and a $100,000 Rapid Investment Program (RIP) grant from Miami University. 
View a video abstract of their 3D ROC project on YouTube:
About the 3D ROC
3D ROC, launched in 2017, was designed in three phases. In the first phase, which closed September 2017, researchers presented conceptual frameworks for designing and building retinal organoids. In the second phase, which closed December 2020, researchers showed significant progress toward a functional retinal organoid. 

In the third and final phase, researchers designed retinal organoids that recapitulate the major cellular groups and functions of the living human retina, including light-sensing photoreceptors, supportive retinal pigment epithelial (RPE) cells, retinal ganglion cells, and vascular cells.