Ten new things students will see this fall semester
Several new dining venues and digital IDs are among the latest features on campus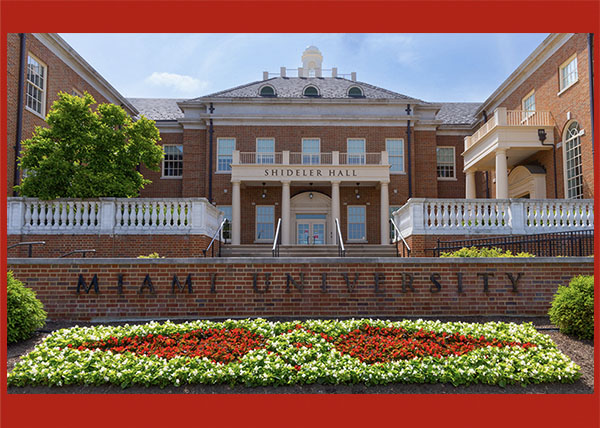 A new planting design of the Myaamia Heritage Logo outside Shideler Hall celebrates the unique, 50-year relationship between the Miami Tribe of Oklahoma and Miami University. The project was led by horticulturalist Kara Knight with assistance from the Physical Facilities Department welding shop (photo by Scott Kissell).
Ten new things students will see this fall semester
A new planting design of the Myaamia Heritage Logo outside Shideler Hall celebrates the unique, 50-year relationship between the Miami Tribe of Oklahoma and Miami University. The project was led by horticulturalist Kara Knight with assistance from the Physical Facilities Department welding shop (photo by Scott Kissell).
1 – A new food service provider, plus lots of dining changes at Armstrong Student Center
This fall, there will be several new dining changes effective Monday, Aug. 22, the first day of classes. Miami University has partnered with Aramark to innovate campus dining.
GrubHub is the new online ordering system for dining. Students will use new kiosks in the dining locations or the GrubHub app on their phone. It is a mobile ordering system and pick-up at the location; no delivery options are available. A cashless campus, which began during the pandemic, will remain.
Several new venue concepts are available in the Armstrong Student Center. They include Eiffel Pizza (pizza and pasta), Evergrains at Haines' (Mediterranean), Field to Fork (build your own salads), and Kabar (sushi, bowls, stir fry, dim sum, etc.)
Pulley Diner, Cafe Lux, and Red Zone will have some menu changes. Toasted Bagel is closed and will be replaced with Panera coming in fall 2023.
Bell Tower Place is under construction this academic year with new features coming in fall 2023. Several new changes in Bell Tower Dining Commons will roll out throughout the semester.
2 – You can have a Digital ID on your phone
Miami is implementing Miami Digital ID as an official form of identification. Using the Miami Digital ID ensures you are never without your key to campus. The Miami Digital ID is available at no cost to all students and employees.
The ID provides access to residence halls, can be used to open doors of campus buildings, scan at meals, gain admittance to various campus events and the Recreational Sports Center, and almost anything a physical card can do.
Review the Apple and Android support pages before requesting a card to see your device meets the eligibility requirements.
Note: The new Digital ID is a completely different application than Mobile ID that students could use for doors in the residence halls in the past. The Digital ID is not an app, it's in the Apple Wallet or Google Pay.
3 – Construction continues, and renovations are completed
Construction on the two new academic buildings will continue this fall. The Richard M. McVey Data Science Building was just a flat slab when students left in mid-May. The structural steel is now up and installation of the trusses will begin this week. Construction will continue through 2023.
The Clinical Health Sciences and Wellness facility continues on schedule. The brickwork and tile roof are complete. The lower level is getting flooring and cabinetry, while the third floor is getting electrical, mechanical, and plumbing. This project continues until spring 2023. Nearby, the entrance to the North Parking Garage was reconstructed over the summer.
Phillips Hall had a small renovation. The departmental office was relocated to the second floor, and a new state of the art classroom was created off the first-floor main lobby. This classroom will highlight some of the Department of Kinesiology, Nutrition, and Health's high-end equipment. Meanwhile, the Farmer School of Business had two classrooms renovated to better suit contemporary teaching styles.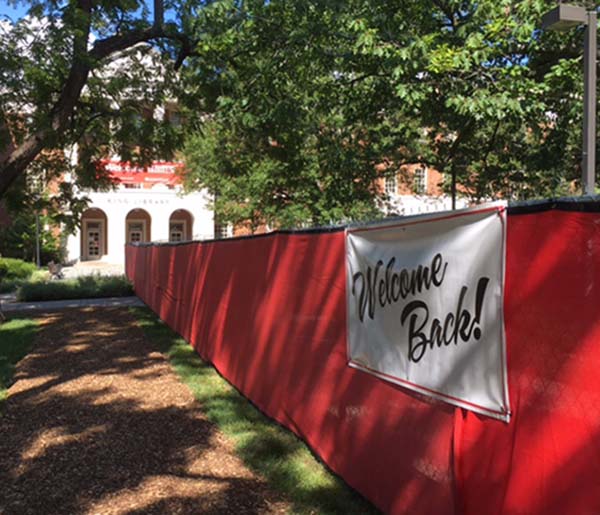 A mulched path provides easy access to King Library.
4 – Fencing surrounds work that continues to reduce carbon footprint
Construction fences will disrupt Slant Walk and around the front entrance of King Library for most of the fall semester. This project is an important component in Miami's sustainability journey to achieve carbon neutrality. 
Miami continues to invest in reducing its carbon footprint through this year's central campus Heating Hot Water (HHW) conversion project, converting nine buildings from steam heating and cooling to HHW. This project is part of Miami's Utility Master Plan that began 10 years ago and is the next step in our transition from steam heating systems to geothermal and efficient heating hot water. Read more about Miami's energy systems transformation efforts here.
5 – A residence hall gets a new name; Dodds Hall renovated
Beechwoods Hall has been renamed Young Hall to honor Herrick B. Young, president of Western College for Women from 1954 to 1969. Young, who led the initiative to make Western a leader in international and multicultural education, was president when Western attracted world attention in 1964 as the training venue for the major civil rights initiative in Mississippi now known as Freedom Summer.
Dodds Hall is the latest residence hall to be renovated, and some ventilation improvements were made in Tappan, Emerson, and Morris residence halls.
6 – The Regionals launches two new programs
This fall, the Regionals will launch its first-ever AmeriCorps program, Service+, giving all Miami students a chance to put their skills to work helping local nonprofits while receiving financial and professional benefits.
Early College Academy, a new dual enrollment program starting this fall, was created to give local students new opportunities to reach their college goals and close long-standing equity gaps in higher education for students from underrepresented backgrounds. Early College Academy (ECA) gives high school students the chance to earn a two-year degree at no extra cost while they complete their high school credits.
7 – Three new majors at Miami
The Department of Sport Leadership and Management (SLAM) has three new majors – Sports Coaching, Sport Communication and Media and Sport Management. Check out the Majors, Minors, and More page.
8 – Miami's new TikTok account captures life on campus
A short video entitled "Only Miami students will understand" shows a student approaching the Seal but turning abruptly to avoid stepping on it. It has been viewed more than 865,000 times on TikTok, and the Insta Reel has been viewed more than 1.3 million times. View the video here. Be sure to follow Miami on TikTok to stay up-to-date on the latest happenings.
9 – Two new Owl Pro kits at King Library, and more
The Libraries now offer two Meeting Owl Pro kits for checkout to make it easier for students, faculty, and staff to hold hybrid events. These portable 360-degree video conferencing devices automatically focus on whoever in the room is speaking and feature a built-in speaker so virtual participants can be heard without any feedback or echo. One Meeting Owl Pro can capture audio and video of participants up to 18 feet away, and two devices can be connected and used together in larger rooms and events. The kits are available for checkout at King Library.
Visitors to the Makerspace in King will notice a new fleet of self-serve 3D printers. New Prusa machines offer faster, more accurate prints than the previous Lulzbot printers and can be reserved online. Also new this semester in the Makerspace is a knitting machine.
10 – The Rec offers new fitness equipment and group classes
At the Recreational Sports Center, expect to see many new pieces of fitness equipment, including cardio and strength training, along with new group fitness classes.
The Intramural Sports department will be offering new esports leagues and tournaments this academic year. They will compete in the Esports Arena at Armstrong Student Center, where more than 1,200 students took advantage last year of the new space that is open to all Miami students. Check the Rec's website for more information.