Student loan forgiveness: Miami experts react to President Biden's announcement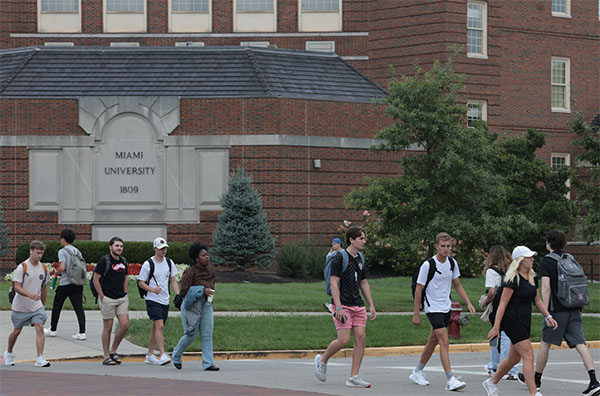 Students cross Patterson Avenue in front of Pearson Hall on the first day of fall semester classes
Student loan forgiveness: Miami experts react to President Biden's announcement
Students cross Patterson Avenue in front of Pearson Hall on the first day of fall semester classes
President Joe Biden has announced $10,000 in loan forgiveness for individual borrowers who make less than $125,000 annually and households earning less than $250,000, as well as the extension of the payment freeze until the end of this year. Pell Grant borrowers are eligible to receive up to $20,000 in loan forgiveness. Details on how borrowers can utilize this relief will be announced soon, with the application expected to be available by December. Miami experts talk about the potential impact of the announcement on borrowers.
Brent Shock, vice president of Enrollment Management and Student Success, provides leadership to Miami University's offices of Admission, the Bursar, Student Success, Student Financial Assistance, and the One Stop. Shock has 30 years of experience working in and around federal, state, and institutional financial aid. 
Shock notes there are still "many unanswered questions about who qualifies" for the forgiveness, and that it is unclear if some borrowers will need to apply at all.
"While this one-time action will help many millions of borrowers, only true reform of the student loan process will bring about lasting change." 
The National Association of Student Financial Aid Administrators has outlined a series of changes that need to occur to ensure lasting reform, Shock said. Those include:
Simplifying and making student loans more affordable by eliminating origination fees, lowering student loan interest rates, and consolidating existing repayment plans into a limited number of easy-to-understand plans.

Bringing all borrowers who are currently in default with a one-time reset, and developing safety nets for borrowers going forward that allows them to quickly rehabilitate their defaulted student loans at reduced cost and penalty.

Automatically enrolling delinquent borrowers in income-driven repayment before they enter default, whenever possible.

Requiring Federal Student Aid to implement a comprehensive set of servicer policies and procedures that allow transparency into student loan servicing, and require all servicers to use common branding and a single servicing system to interact with all borrowers.

 
Peter Nencka is an assistant professor of Economics whose research focuses on labor and public economics with applications to education, innovation, and economic history.  
Nencka says the announcement is a "big deal" from the perspective of individual borrowers, and the majority of borrowers will be affected.  
"If you think of average balances, this is going to be a large chunk of those balances for a lot of people. For Pell Grant recipients, $20,000 is a big reduction as well. The other piece of the program is they have refined and kind of clarified the income-based repayment plan. So even people whose loans aren't fully forgiven, they have the potential to have their payments capped going forward. So yeah, I think it is a big deal."
"There has been a rising recognition of the importance of student loans and student loan balances. So given that, it isn't surprising that the government did something."
"I think it's a big deal, but it's far from legally settled whether this is going to go through all the way. I'm not a legal expert, but I think this is certainly going to go to the courts."