MUPD completes summer training to ensure the safety and security of campus community
Mental health first aid, critical incident response, active threat training, and more bring new skills and knowledge to MUPD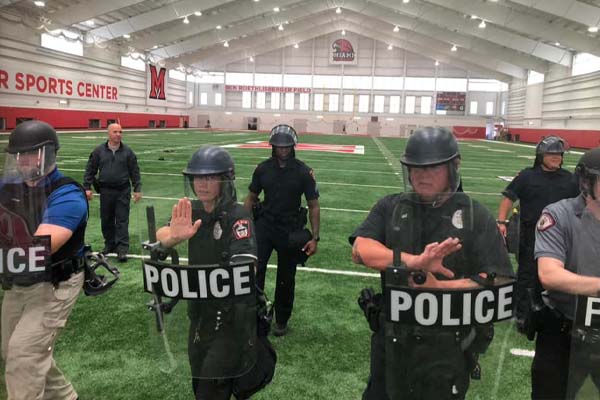 MUPD completes summer training to ensure the safety and security of campus community
The summertime may provide a nice break for many students. But across campus, the ever vigilant Miami University Police Department (MUPD) continues to maintain a safe and secure community. 
This summer, MUPD completed a variety of summer in-service trainings on mental health first aid, mobile field force for mass gatherings, and critical incident response, as well as active threat training. 
Each session was designed to ensure officers have the skills and knowledge to address any situation or incident that may occur. 
"I am proud of MUPD because of the dedication and hard work of our officers," Chief of Police Stephen VanWinkle said. "MUPD officers are dedicated to serving our campus and protecting our community. They exhibit professionalism, integrity, and the desire to learn and grow to meet the evolving needs of our community."
By working alongside a host of additional local and state agencies, the officers were also able to share knowledge, build collegiality, and draw from best practices to facilitate an effective and cohesive team-based response to any crisis situation.
These additional agencies included police departments from Oxford, Oxford Township, the University of Cincinnati, Hamilton and Fairfield, as well as the Oxford Fire Department, Kettering Health, the Ohio State Highway Patrol, and the Butler County Emergency Management Agency.
The active threat training was also offered in response to the recent school shooting in Uvalde, Texas. 
SWAT team members were on hand to share knowledge and skills on the latest updates to active threat responses, while also facilitating drills to help MUPD practice new tactics and prepare for multiple scenarios.  
Following the ​​active threat training, the police department completed further reflections and debriefs to promote individual officer growth and to further ensure the safety of students, staff, faculty, and community members.
Kimberly Moore, Miami's associate vice president for Student Life and dean of students, said, "We have incredible partners in MUPD. Their jobs are complex and constantly evolving, and skill development and refinement enhance the service our officers provide to our community. Ongoing training also affords an opportunity for our officers to be on the cutting edge of advancements in the field which is inherently important for their safety and ours."