Student-founded startup takes first place at Draper U. Demo Day
A Miami University student-founded startup finished an intensive entrepreneurship program with a Demo Day win.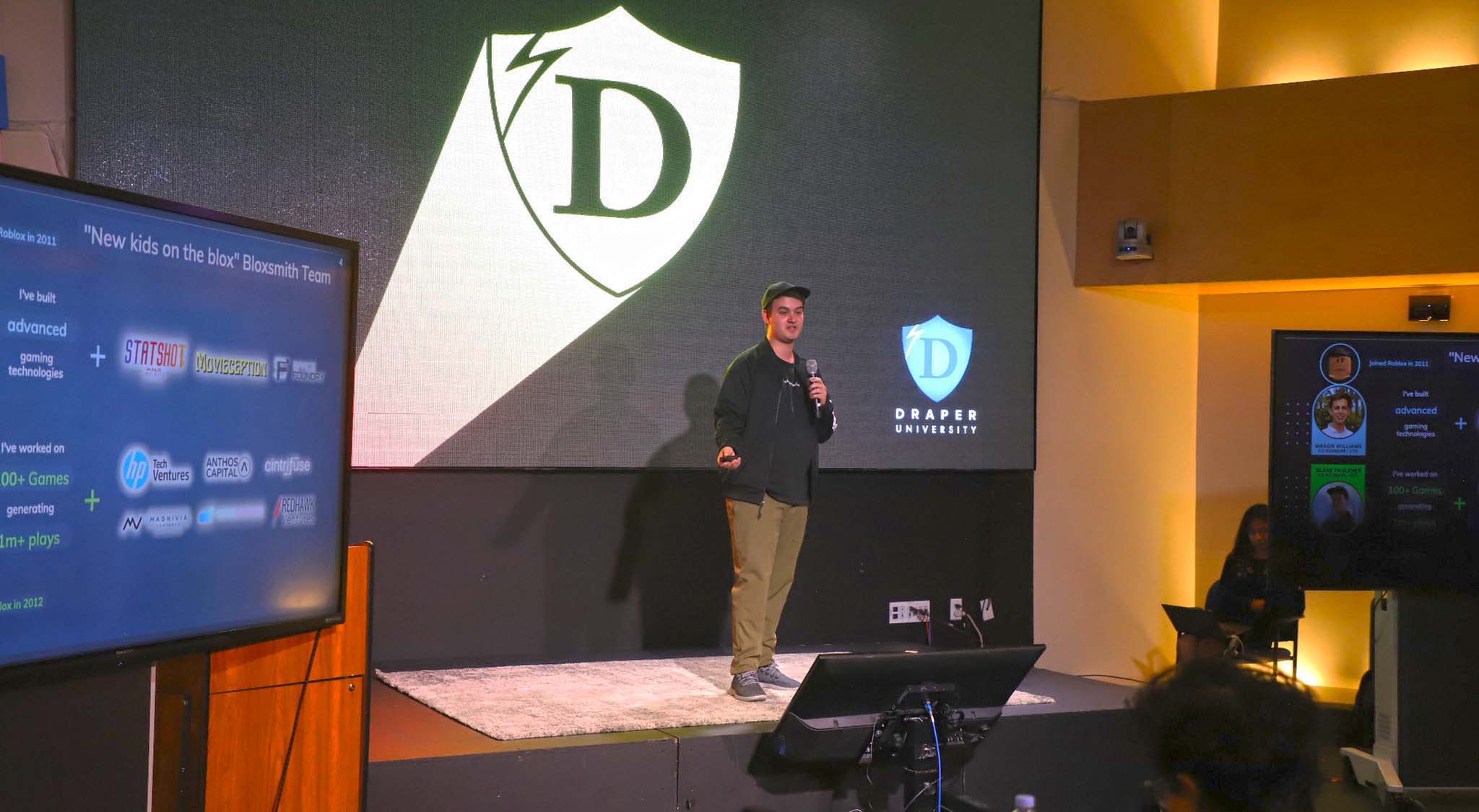 Student-founded startup takes first place at Draper U. Demo Day
A Web 3.0 startup created by a pair of Miami University students took the top spot at the Draper University Demo Day competition last week, beating out more than 50 other startups from two dozen countries.
Created by Farmer School finance and entrepreneurship major Blake Faulkner and computer science major Mason Williams, Bloxsmith is a platform that allows game developers to sell their 3D model creations for interoperable use across major metaverse platforms such as Roblox, Decentraland, Mutate, and The Sandbox, among others.
The Demo Day is the culmination of Draper University's Hero Training, a five-week intensive program that Faulkner was part of that is designed to develop the essential startup skills needed to launch and sustain a successful venture, gain exposure to industry experts and network with other like-minded entrepreneurs.
"The mentoring I have received while being here has been outstanding," Faulkner said." I've been able to interface and receive mentoring from the best entrepreneurs and investors in Silicon Valley, from companies like Uber and Andreessen Horowitz."
"Our venture scalability, team, and traction were evaluated by judges from Draper Dragon, Draper Associates, Draper University Ventures, and by billionaire Tim Draper himself, and we placed first out of our cohort of 80+ inspiring founders/operators that've raised over $11M in capital for their startups," Faulkner said.
"We're really excited to be getting exposure and making an impact in Silicon Valley. By winning Draper University's Demo Day 2022, we're continuing to increase our presence in the startup community," Williams said.
Bloxsmith has closed funding from the top two student-focused venture capital firms in the US, Dorm Room Fund and Rough Draft Ventures, has accumulated a growing list of regional, national, and international awards and accolades. Last fall, the company was one of three Farmer School student-led startups to win Main Street Ventures' annual 2021 Launch It: Cincy Pitch Competition, an event that features pitches by undergraduate student-founders from universities across the Greater Cincinnati, Northern Kentucky, and Greater Dayton region. In January, Bloxsmith won the Global Student Entrepreneur Awards (GSEA) regional pitch competition in Cincinnati and later, was named a National Finalist in the GSEA National Competition. Both events were hosted by the Entrepreneurs' Organization.
With Bloxsmith's win, Faulkner was invited to pitch live on Stonks.com. Stonks.com, which is backed by top venture capital firm Andreessen Horowitz, is a crowdfunding platform for demo days where angel investors and VCs can invest in high-growth/potential startups.
Faulkner said that the support from Miami and from John W. Altman Institute for Entrepreneurship faculty were a key part of Bloxsmith's win.
"Miami University, Tim Holcomb, and Mark Lacker played a huge role in getting Bloxsmith to the West Coast this summer by financially supporting our admission into Draper University and we're thrilled to be bringing this win back to the university," Faulkner said. "Having been part of the sixth and seventh cohorts of RedHawk Launch Accelerator, I've had numerous opportunities to pitch Bloxsmith to investors, and those experiences helped me secure this win."
"The Bloxsmith team has a great product roadmap, industry experience and technical capability to empower game developers across the metaverse," Lacker said. "The Draper Demo Day win is further evidence of their momentum and opportunity."