Miami University's first iGEM team wins gold medal at International Genetically Engineered Machine competition
Miami's team, CROP, was among 350 teams from 46 countries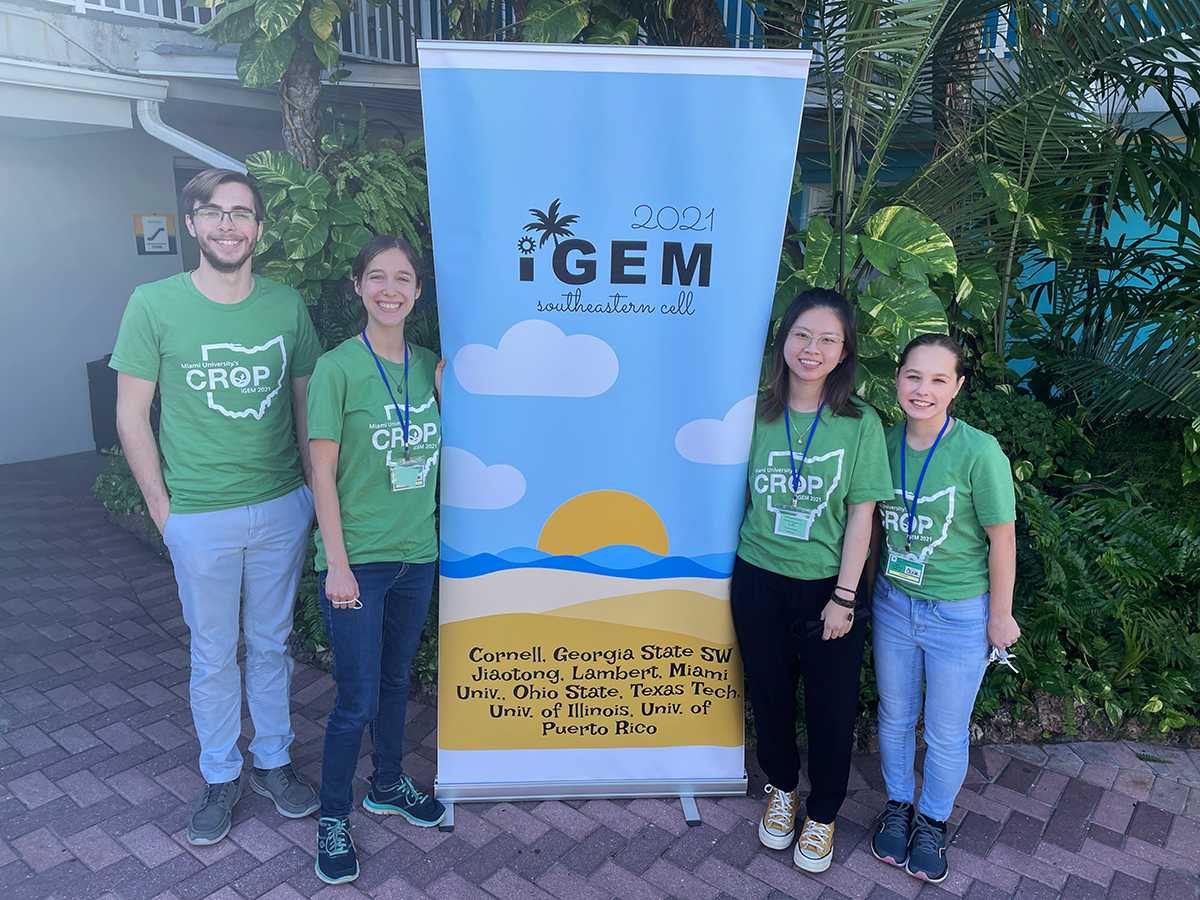 Four of the 12 members of Miami's iGEM CROP team, Kyle Lierer, Hope Townsend, Tra Yen Nhu Phan and Daria Perminova, at the iGEM 2021 Southeastern Jamboree.
Miami University's first iGEM team wins gold medal at International Genetically Engineered Machine competition
Four of the 12 members of Miami's iGEM CROP team, Kyle Lierer, Hope Townsend, Tra Yen Nhu Phan and Daria Perminova, at the iGEM 2021 Southeastern Jamboree.
Miami University's first-ever iGEM team won a gold medal and was one of four teams nominated for two special awards in iGEM 2021, the annual International Genetically Engineered Machine competition. Results were announced at the Giant Jamboree held Nov. 4-14.

This year, 350 teams of student scientists and engineers from 46 countries and regions "worked creatively to push the frontiers of synthetic biology – with or without access to a laboratory," according to the iGEM Foundation. They identified important local problems, presented their ideas for engineering biological solutions, addressed questions about the safety and security of their work, and sought innovative ways to include diverse groups of people.
Multidisciplinary teams work together over the summer and fall semesters to design, build, test, and measure a system of their own design using interchangeable biological parts and standard molecular biology techniques.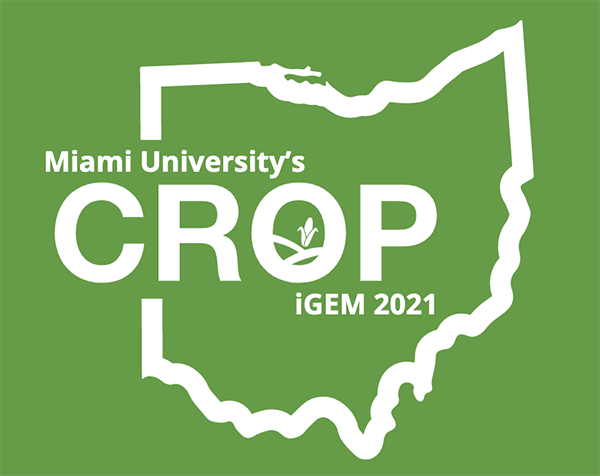 Miami's iGEM team project, CROP, aimed to redesign a pathway used during photosynthesis. Through genetic engineering, the team worked on disrupting and streamlining the pathway (specifically, for the regeneration of the molecule RuBP during the Calvin cycle). Ultimately, their model could improve the efficiency of photosynthesis, and thus improve agricultural productivity by providing a mechanism to boost plant growth.
 An international panel of more than 300 judges selected the winning teams: 169 teams earned gold medals, 101 teams earned silver, and 50 teams earned bronze.
Miami's CROP team was also nominated for two special awards:
Microbiologist Xin Wang: Introducing iGEM to Miami students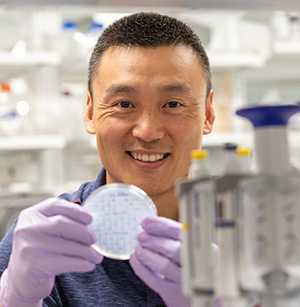 "This internationally renowned competition is a great opportunity for students from many different disciplines to work together to solve problems faced by our society," said Xin Wang, assistant professor of microbiology.
Wang (pictured at right) inspired the formation of the team and served as the principal investigator for their project, CROP. Wang's research — which was recently awarded a CAREER grant from the National Science Foundation – focuses on photosynthesis redesign.
His intent was to introduce iGEM to Miami students and show them how impactful the competition can be. He supported the team with outreach funds from his CAREER grant, so that they did not have to fundraise.  The ongoing work in his lab provides a foundation for future iGEM teams to continue with the project.
Luis Actis, chair and professor of microbiology, was the co-principal investigator for the CROP team. 
Forming the CROP iGEM team
Wang and Actis picked senior microbiology major Hope (Kirby) Townsend to recruit and lead the team. Townsend, who is a 2021-2022 Astronaut Scholar and a 2020-2021 Goldwater Scholar, has conducted undergraduate research with Actis since her first semester at Miami.
"We had very little time to create the team, and this project asks a lot of people," Townsend (pictured at right) said. "I wanted to make the team as diverse as possible, with different strengths to empower an interdisciplinary project," she said. "The quick turnaround and the lack of knowledge about iGEM at Miami was probably the most difficult part of this project."
Avery Imes, senior microbiology major and another major force of the iGEM team, helped recruit key members of the team. She said she sees iGEM as a "a great opportunity to push her understanding of science while addressing everyday issues" and issues for which she wants to play an active role in creating solutions for. 
Daria Perminova, a junior biology major and one of the 12 CROP team members, "jumped at the opportunity" to join the team after she was contacted by Townsend. Perminova's mother had been a lab mentor for the U.S. AFRL/Carroll High School team in 2017 and "it didn't take much convincing" for Perminova to join.
"I was introduced to an emerging field of research (synthetic biology) that's going to change the world," Perminova said. "I gained confidence as a researcher," and "learned how to be flexible and how to best work with others throughout the demanding process of navigating iGEM."  
Guidance from an "old iGEMer"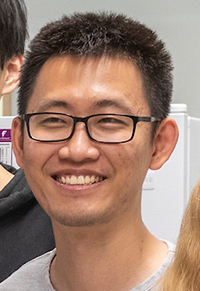 Team instructor Zhenxiong "Shaun" Jiang, who joined Wang's lab in June to work on his doctorate in computational microbiology, served as team lead for his undergraduate iGEM team, NJAU China, in 2014.
The goals of iGEM include resolving real world problems at the local or global scale, and to give self-motivated students the experience to become well-trained and more competitive in their future career path and serve as potential leaders in their field, Jiang said.
The scale of the competition has grown since he competed in 2014. The field of synthetic biology has evolved since then too, with numerous new applications and techniques that have been developed and applied in students' projects, Jiang (pictured at right) said.
"As an old iGEMer, my role in the early stage of this competition included providing details and past experiences to make sure the team was moving on the right track to complete tasks on time," Jiang said. "Later on I was more involved in guiding and tutoring the computational group. As a new Miami graduate student, it was definitely one of the best ways to know these passionate and gifted Miami undergraduates." 
Team members had to step out of their comfort zones to get tasks done, Townsend said, and "it was amazing to see some people really step up to the challenge."
Townsend, who is currently applying to graduate schools, said "iGEM has larger implications than the simple use of synthetic biology. It matches my views that science should have a futuristic approach, constantly trying to improve upon itself and having consideration of those it is impacting."
The iGEM competition offers a great opportunity for students to apply their knowledge learned in classrooms to solve real world problems, Wang said. "It's also a testimony of the importance of enriched culture and multidisciplinary approaches in fostering a productive team effort. I'm thrilled and privileged to work with such a talented and motivated group of undergraduates. They make science so much more fun!"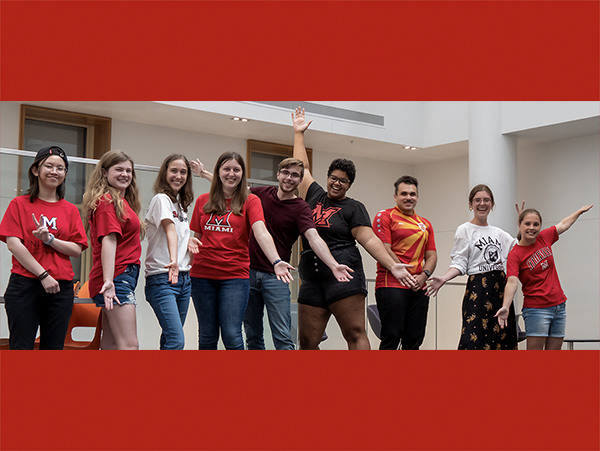 Members of Miami's iGEM CROP team pose in the lobby of Pearson Hall. Left to right: Tra Yen Nhu Phan, Avery Imes, Hope (Kirby) Townsend, Mackenzie Britton, Kyle Lierer, Camaryn Bennett, Nicholas Nocevski, Rhonda Krehbiel and Daria Perminova. (Not pictured: Max Brenner and Cameron Headlee).
Team members:
Hope (Kirby) Townsend, senior microbiology
Max Brenner, junior microbiology major
Camaryn Bennett, senior chemistry major
Mackenzie Britton, junior microbiology major
Avery Imes, senior microbiology major
Rhonda Krehbiel, senior international studies and professional writing double major
Kyle Lierer, senior computer science major
Annie Nguyen, junior biomedical engineering major
Nicholas Nocevski, senior biomedical engineering major
Daria Perminova, junior biology major
Tra Yen Nhu Phan, junior computer engineering major
Cameron Headlee (web developer)
Learn about their communication and educational outreach on genetically modified organisms and photosynthesis.
Watch the promotional video: