Miami professor develops app to help people in wheelchairs reach their destinations
An original AI-based system designed by a Miami team of researchers records surface patterns on roads and sidewalks.
Miami professor develops app to help people in wheelchairs reach their destinations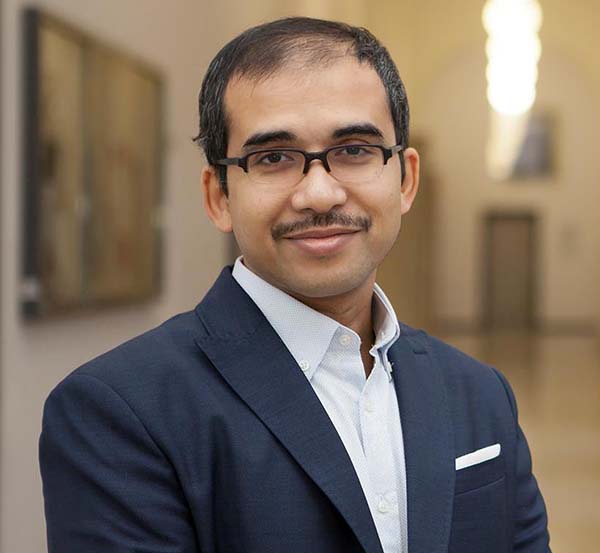 Miami University's Vaskar Raychoudhury will receive $600,000 from the U.S. Department of Health and Human Services Administration for Community Living to develop
MyPath
— a complete end-to-end accessible routing and navigation system with an accessible app.
Raychoudhury (pictured at right), an associate professor of Computer Science and Software Engineering, brainstormed his initial idea for MyPath with Md Osman Gani, who was a visiting assistant professor at Miami and is now an assistant professor at the University of Maryland. The two created a novel artificial intelligence-based system for classifying surfaces as accessible or inaccessible. They use wheelchair-induced vibration patterns collected by sensors embedded in smartphones. 
With this data, they will develop an efficient routing and navigation system for people using wheelchairs. The data helps define various environmental conditions like types of pavement barriers that could cause people difficulty reaching their destinations.
For instance, gravel or stone can cause mobility issues. Raychoudhury and his father know this from experience. In 2018, with his father in need of the use of a wheelchair, Raychoudhury helped him maneuver over 170 miles as they toured different cities in Europe. 
"I didn't think about the difficulties to accessibility until I faced pushing a wheelchair through many different types of surfaces, from gravel to sand to grass," Raychoudhury said.
Most mapping systems don't take into consideration people with disabilities, he explained, and he knew he could do something to solve this problem.
MyPath's capabilities continue to grow. The U.S. Health Department's award will support 1 graduate student per year for three years at Miami, as well as two graduate students for two other sites within the United States. Raychoudhury's  team will be collaborating with the University of Maryland, Baltimore County, and the University of Wisconsin-Milwaukee
Volunteers, including students at Miami, have begun collecting data by going to places using wheelchairs. Eventually, the app will be populated through crowd-sourcing to allow for more real-time updates. Raychoudhury welcomes more volunteers to help with data collection. 
They will also be working with partners like the city councils of Oxford, Milwaukee, Wisconsin, Baltimore, Maryland, and wheelchair distributors like National Seating and Mobility (NSM), and NuMotion.
"The practicality of MyPath can positively change people's lives," Raychoudhury said.
--------
Raychoudhury
joined Miami in 2018. His research within Miami's
College of Engineering and Computing
covers large-scale data analysis and mining, applied machine learning and AI, mobile and pervasive computing such as smartphone sensing, wireless sensor networks, and the Internet-of-Things.