A new Miami University study will explore how exercise can positively impact memory and thinking skills
Read the story or listen to the podcast about the research led by Helaine Alessio and Adam Ortman (Miami '12) studying dual task training.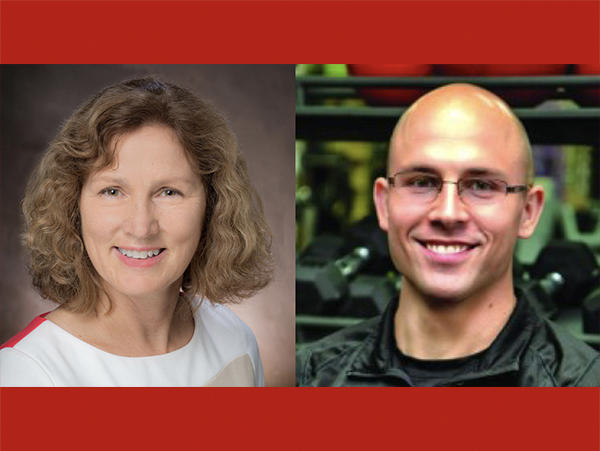 Left, Helaine Alessio, chair and professor of kinesiology and health, and right, Adam Ortman.
A new Miami University study will explore how exercise can positively impact memory and thinking skills
Left, Helaine Alessio, chair and professor of kinesiology and health, and right, Adam Ortman.
Research shows that engaging in physical activity that boosts cognitive reserve can minimize the effects of dementia by increasing the mind's resistance to age-related damage to the brain. A new research study now underway at Miami University will continue to explore the connection between physical activity and brain health. 
"It is well known that regular exercise can prevent a variety of age-related diseases, including cardiovascular disease, sarcopenia, osteoporosis, lower back pain, and obesity," said Helaine Alessio, chair and professor of Miami's department of Kinesiology, Nutrition, and Health (KNH). "What is less appreciated is how regular exercise can directly and indirectly improve memory and thinking skills. This study adds an interesting dimension by combining exercise with several problem-solving activities referred to as dual task training."
Dual task training happens when the brain and the body are simultaneously performing rigorous cognitive and physical workouts respectively, and it will be a central component of the new 12-week study called "Effects of Physical Exercise on Cognitive Outcomes." 
The study, which will include 36 participants, combines functional exercises with a brain component that includes an elaborate screening with a FDA-cleared device that measures memory, visuospatial awareness, executive function, processing speed, and reaction time. 
Also assisting in this study are Dr. Dean Smith, PhD, DC, with research experience in motor learning and postural control, and Dr. Nancy Malay, DPT, with experience in exercise, balance and falls prevention with older adults.
Miami KNH alumnus Adam Ortman '12 -- who also serves as the chief coaching officer at Activate Brain and Body, a startup organization that combines fitness with technology to build better brain health and prevent cognitive decline - will also collaborate on the project.
Ortman's work further explains the correlation between having an elevated heart rate, while doing various brain stimulation-based workouts, to facilitate the release of a protein called Brain Derived Neurotrophic Factor (BDNF).
"BDNF is like Miracle Grow for the brain," Ortman said. "There's a big myth that we have X number of brain cells and once those brain cells are gone, they're gone. That's not true. You absolutely can build new brain cells, and build a bigger neural network with more brain cells and connect them. When you get your heart rate up, that's when BDNF gets released, particularly through physical cardio exercise. It sends signals to build neuroplasticity and new neural networks that are more flexible."
Building cognitive reserve through physical exercise not only provides a research-backed way to improve brain health and minimize some types of dementia, it's also "never too late to begin," Ortman said.  
The new study hopes to find more efficient and effective ways to enhance this mind-body connection.
"Many people are looking for the optimal way to exercise to stay fit, and almost everyone wants to keep or possibly improve their memory and thinking skills," Alessio said. "The results of this study will help us to identify if there is a 'better' way to exercise."
Alessio's research interests include investigating gene expressions and health-related phenotypes such as tumor growth, blood lipids, and oxidative stress in animals by comparing physically active and sedentary models. Her research has been funded by the National Institute on Aging, National Institutes of Health, and the National Cancer Institute.
According to Stanford University, Alessio is also among the world's top 2% of cited research scientists.
Listen to Ortman on the Reframe podcast
Hear Adam Ortman speaking more about how physical activity can slow aging and help prevent dementia on a new episode of the Reframe Podcast.