University, city celebrate 'Chief John McCandless Day' upon his retirement
The city is honoring Miami's retiring police chief for his 17 years of service to the community and his work building a collaborative partnership with Oxford Police and other law enforcement agencies in Butler County.
University, city celebrate 'Chief John McCandless Day' upon his retirement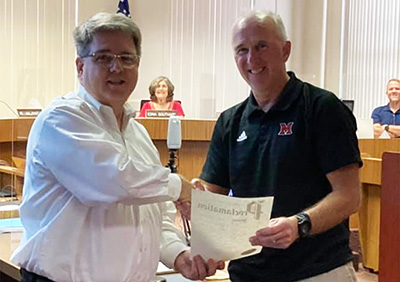 City of Oxford Mayor Mike Smith (right) presents John McCandless with a proclamation at the July 20 city council meeting.
Before John McCandless is ankle deep in the Florida surf this fall, Miami University and the city of Oxford will send him out in style, celebrating "Chief John McCandless Day" on July 31, 2021. The city is honoring Miami's retiring police chief for his 17 years of service to the community and his work building a collaborative partnership with Oxford Police and other law enforcement agencies in Butler County. 
"John McCandless has been a selfless leader during his service to Miami University, Oxford, and the surrounding communities," Miami University President Gregory Crawford said. "We are very thankful for the service he has provided and his dedication to developing a well-rounded, compassionate team. His leadership and collaborative style will leave a lasting impression that makes me confident that the Miami University Police Department will continue to build upon his legacy of excellence."
McCandless began his career in law enforcement 40 years ago in Michigan, majoring in criminal justice at Ferris State University and working for the Midland County Sheriff's Department. There he worked as a marine deputy alongside his older brother, Jim.
"I was in middle school when Jim graduated and started his first job — he is what drew me to law enforcement," McCandless said. "I listened to him and learned from him. And not just with the career stuff. With life. He was the best man at my wedding."
After graduating from Ferris with his degree and state certification, McCandless worked as a patrol officer for the city of East Lansing for six years before an opportunity with the local university came knocking. Michigan State University Police had an opening.
"Back in the '90s, community policing was still a relatively new concept, and Michigan State University Police were on the cutting edge of it," McCandless said. "I wanted to be a part of that."
The police chief there took an interest in McCandless, supporting and encouraging him to pursue a master's degree and take on new areas of responsibility. Among those many responsibilities, McCandless commanded the special events division and supervised an area narcotics team. He supervised major cases and managed the field training program. He created the departmental report-writing manual.  
He rose to the rank of lieutenant and served as the platoon commander for the patrol divisions, with responsibilities including overseeing a patrol shift, supervising community policing teams, and liaising with campus groups. 
Others took notice of McCandless's accomplishments and management style. A few universities recruited him and made job offers, but it wasn't until Miami University asked him to become police chief in 2004 that McCandless made a move.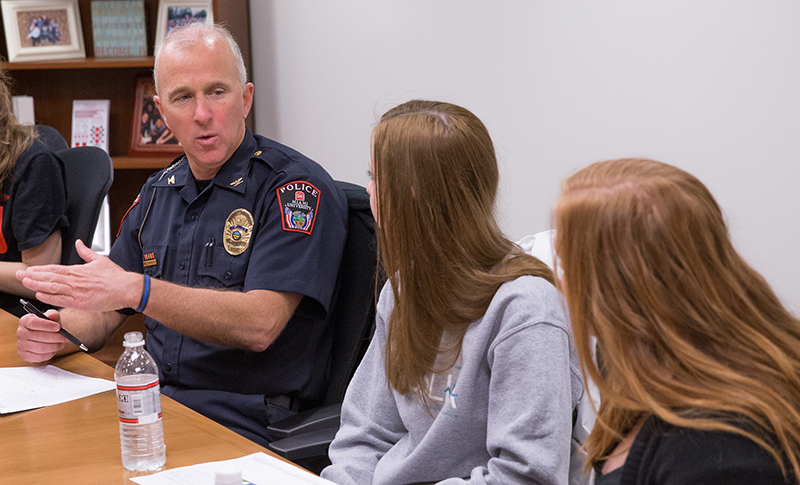 McCandless speaks with students during a Student Advisory Board meeting (image, 2015, by Scott Kissell).
"Miami is a special place, and it's the people that make it such a special place," McCandless said. "I knew that from the time I first visited, and that holds true today. We have great officers, great administrators, and our students — they are something special." 
McCandless can say that with some authority — three of his kids are Miami graduates, and the fourth is a senior now. 
"There are nuances to working with college students, and our officers get that," McCandless said. "They appreciate that you have to police things a little differently. It's very easy to write tickets and arrest people. What's hard is thinking through the tough decisions to turn a situation into a teachable moment."
Teachable moments aren't just for students though, McCandless said. When he arrived in Oxford 17 years ago, there was some tension between the Miami University Police Department (MUPD) and the Oxford Police Department. At the time, the memorandum of understanding between the two departments was more about what each couldn't do in the other's jurisdiction, rather than how they could work together.
"We began to build relationships with the city; it's something that has taken time, but I am so proud of where we are now," McCandless said. 
Under McCandless's leadership, the Miami University Police Department has also strengthened relationships with law enforcement agencies throughout Butler County and made strategic investments in resources, equipment, and training for its officers.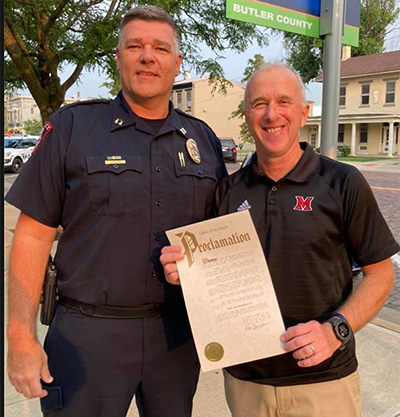 McCandless with MUPD Captain Stephen Van Winkle (right), who becomes the new police chief Aug. 1.
"I take a lot of pride in the strides we have made over the past 17 years to professionalize our police force," McCandless said. "Law enforcement professionals come to MUPD to make a career here. This is as much of a career destination as any other police in the area. I take a lot of pride in that." 
McCandless said that wouldn't have been possible without the support from the administration at Miami. He said people like David Creamer, treasurer and senior vice president for finance and business services, have really helped push the needle in the right direction. 
Creamer, however, credits McCandless.
"Chief McCandless is an exceptional leader whose ability to understand the changing needs of  policing and adapt MUPD to these changing expectations has brought regional and national attention to the department," Creamer said. "It is known for its expertise in computer forensics and for being one of the first police departments to deploy body cameras and to achieve Ohio's certification for police departments."
Creamer added, "Chief McCandless will be missed, but the impact of his leadership on the department will continue to benefit the Miami University community into the future."
Miami's new police chief, Steve VanWinkle, will take the helm Aug. 1, at which time McCandless will begin his goodbye tour, visiting family and friends before heading South to Florida for retirement. He said he and his wife are looking forward to spending time with their children and grandchildren, and finally relaxing. 
"Whatever the next chapter is, it won't be anything tied to a cell phone," McCandless said.