Engineering success: Three sisters find a home in Miami's College of Engineering and Computing
Laura, Elsa and Allison Jacob are all majoring in engineering at Miami University, but each has carved her own path.
Engineering success: Three sisters find a home in Miami's College of Engineering and Computing
Laura, Elsa and Allison Jacob are all majoring in engineering at Miami University, but each has carved her own path.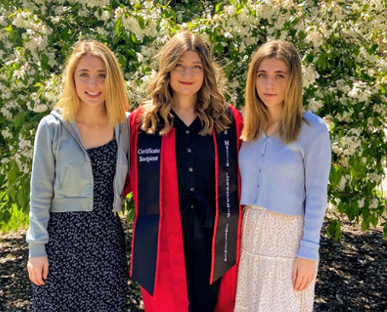 Elsa, Laura (center) and Allison Jacob at Miami
Laura, a senior, majors in software engineering and interactive media studies. She has accepted a full-time position as a web application developer for Nationwide Insurance in Columbus upon graduation.  
Sophomores Elsa and Allison, who are identical twins, room together and often study together, but they opted for different career paths — Elsa is majoring in chemical engineering and Allison has a double major in electrical engineering and music.  
Their older brother, David, earned a degree in electrical engineering from the College of Engineering and Computing (CEC) in 2016.  
So, is there something in the water at the Jacob household in Dublin, Ohio?  
Laura said they were raised with an appreciation of the value of an education in STEM (Science, Technology, Engineering and Math).
Their parents encouraged them to consider the engineering disciplines although neither is an engineer. (Their grandfather, however, holds bachelor's and master's degrees in chemical engineering.)  
"I think it made sense we all actually chose engineering because we like problem-solving, creative projects, and our parents helped us foster a good work ethic," Laura said.
A built-in support system
Elsa said she has found engineering to be both challenging and rewarding.  
"I chose chemical engineering because I really enjoyed learning chemistry in high school," she said. "I was also able to shadow a chemical engineer for a day my senior year, and I thought his job was really cool."  
Elsa said she has enjoyed being in CEC with Allison "because we can support each other through stressful periods, and we both understand what the other is dealing with."  
She added, "I see how hard she works and all the crazy things she is learning as an electrical engineering major, and it is really amazing! We've also gotten to split into our own things as well, being a part of different engineering orgs and growing independently that way."  
A focus on attracting more women to engineering
There are 1,830 undergraduate and graduate students in the College of Engineering and Computing. Of those, 378 are women, nearly 21 percent, which CEC officials say is the national average.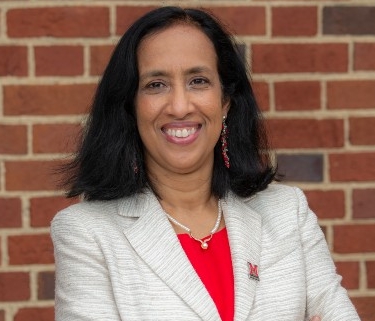 Beena Sukumaran, the new dean of Miami's College of Engineering and Computing
That percentage has been boosted by engineering management - environmental (70 percent women) and biomedical engineering (50 percent women) degree programs, compared to chemical engineering (31 percent women), software engineering (15 percent women) and electrical engineering (14 percent women) majors, CEC statistics show.
Beena Sukumaran, CEC's new dean, is focused on raising those numbers even more.   
"One of the reasons for the underrepresentation is due to a lack of encouragement from the families for women to pursue engineering and computing careers," said Sukumaran, who earned a doctorate in civil engineering. "Families like the Jacobs are definitely breaking that pattern and, as a result, we are seeing an increase in women pursuing engineering."
Sukumaran added, "Currently, the Fall 2021 first-year class (of all declared engineering and computing majors) is 24 percent female, and I anticipate that 2022 will be even better," she said. "But until it is 50-50, we have work to do, because if the profession is not representative of the general population, our engineering designs will not be the best."  
Following in David's footsteps
In high school, David, Allison and Elsa were in their school district's Engineering Academy. It was a three-period class where they learned how to use MATLAB, Arduino, Boolean expressions, and other concepts.
Allison said David's experience in electrical engineering at Miami influenced her decision to follow in his footsteps.  
"He really enjoyed it and told us about his classes and his teachers, and it all sounded really positive," she said. "I decided I would try electrical as he had had a really good experience in it and it sounded very challenging and interesting."  
She remembered how David — now working and pursuing an MBA — also had great experiences with study abroad, such as working with professors in South Korea and Puerto Rico on engineering projects.  
For Elsa and Allison, music will continue to be a part of their Miami experience. Elsa plays the flute, and Allison plays the harp. Both performed with the Miami University Symphony Orchestra pre-COVID, and they plan to stay involved in the coming semesters.
"It is a really great creative outlet for me and I really enjoy playing and learning new music," Allison said. "This semester I performed with the Morpheus Chamber Ensemble, and it was a really great experience."