Three new Myaamia Center programs, including two fellowships, aim to increase educational opportunities on campus
Miami University and the Myaamia Center are leading an effort to increase educational opportunities about the Miami Tribe of Oklahoma and its relationship with the university.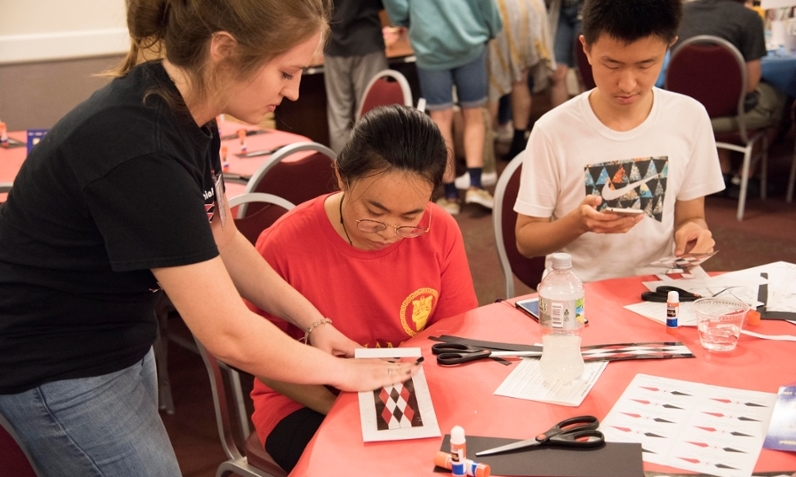 Three new Myaamia Center programs, including two fellowships, aim to increase educational opportunities on campus
Daryl Baldwin, executive director of the Myaamia Center, the Tribe's research arm, said center staff will be reaching out across campus in hopes of strengthening already existing relationships and building new ones that will further increase learning opportunities for all students.  
"No student should graduate from Miami without a basic knowledge and appreciation for the unique relationship their institution has with a sovereign Native American Tribe that historically lived within this region and bears its name," Baldwin said.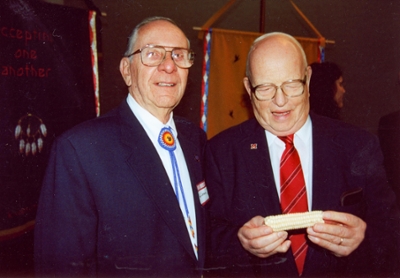 Miami Tribe of Oklahoma Chief Floyd Leonard and Miami University President Phillip Shriver at a 2004 panel about the then-new Myaamia Project, which became the Myaamia Center (courtesy Myaamia Center Archive).
Three new programs that are part of the effort include:  
Chief Floyd Leonard Faculty Fellow
The position is named for the Chief of the Miami Tribe from 1974-1982 and 1989-2008.
Sandra Garner, associate professor in the department of global and intercultural studies, will be the inaugural fellow. She will help the Myaamia Center staff set up the program over the next couple of years, Baldwin said.
 "Dr. Garner's long association with the Myaamia Center, her familiarity with our work, and external relationships she has with other tribal communities makes her an ideal person to help us develop this new fellowship," he said. "Our long-term goal is to expand this program to invite scholars from other institutions to spend time in the Myaamia Center and on campus engaged in a wide range of research and educational opportunities." 
Aanchtaakia Graduate Fellowship
Aanchtaakia is the Myaamia word meaning "change maker." The fellowship is designed for tribal scholars motivated to make change in tribal communities and share their research or interests on Miami's campus.  
The Myaamia Center is looking to attract Indigenous graduate students who are interested in the preservation and dissemination of Indigenous language, culture, history, ecological perspectives, or related topics that support the continuance and education of Indigenous knowledge systems within their respective communities.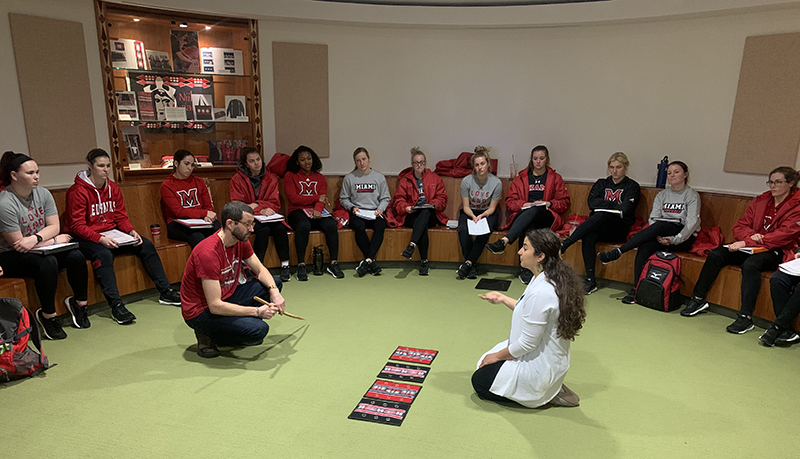 Myaamia Center staff teach the women's softball team to play a Myaamia game, mahkasina, as part of education sessions with Miami athletic teams (photo by Breanna Robinson).
"It is our hope that we can immerse graduate level tribal scholars from other communities in the work of the center, where we can each learn from each other and share our work collaboratively," Baldwin said.
Educational outreach specialist
Together with the provost's office, a new position has been created within the Myaamia Center with the goal of integrating more Myaamia content into the curriculum at Miami University.
Andrew Sawyer (Miami '94) will be joining the Myaamia team as the educational outreach specialist on July 1. He will be responsible for strengthening relationships across campus. Baldwin said the Hamilton native "comes to us with a background in anthropology, cultural resources management, and environmental consulting."  
Sawyer previously worked as site manager for the SunWatch Indian Village and Archaeological Park in Dayton.  
Kara Strass, director of Miami Tribe Relations for the Myaamia Center, said they are excited for these three new initaitives because "they will allow us to incorporate Myaamia content across campus."
She added, "Since the Myaamia Center was created in 2001, we have been focused on the needs of the Miami Tribe, and these new programs will allow us to expand that work more broadly."