Brick and Ivy campus store expands partnership with eCampus.com
MiTech computer services moves to stand-alone location in Shriver Center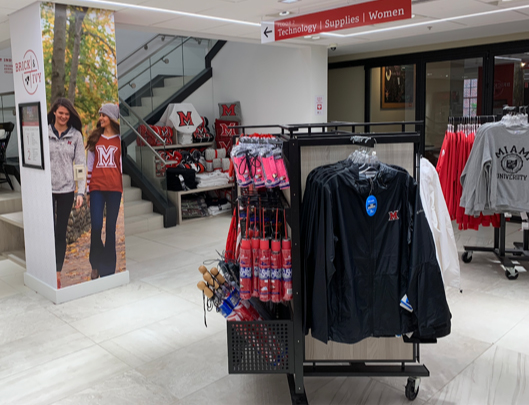 Year-round textbook pickup and customer service and expanded apparel and merchandise sections are part of the new Brick and Ivy partnership with eCampus.com
Miami's successful four-year collaboration with online bookstore partner eCampus.com is expanding.
Starting April 1, the partnership with eCampus.com will include the operation of the Brick & Ivy campus store in Shriver Center where students will have convenient access to a full-service bookstore, said David Creamer, senior vice president for finance and business services.
The partnership has resulted in savings on course materials for students of about $1.3 million a year, Creamer said.
Matt Montgomery, eCampus.com president and CEO, said "eCampus.com is honored to expand its partnership with Miami University to elevate the campus bookstore experience for all stakeholders. As Miami's trusted online bookstore partner since 2017, eCampus.com will now bring over 35 years of retail experience to Brick and Ivy."
Brick and Ivy customers will see expanded apparel and merchandise selections, plus the added convenience of a year-round textbook pickup and customer service center for all student course material needs, Montgomery said.
This change will also make it possible for MiTech — for computer sales, gaming devices and cellular phones and plans — to have a dedicated location on the lower level of the Shriver Center where it will continue to meet the technology needs of Miami students, faculty and staff, Creamer said.
MiTech, which remains completely operated by Miami, will be located in the former 1809 retail space across from the admissions auditorium on the first floor.