An army of essential workers: a Q-and-A with Cody Powell
Dedicated employees work hard to keep Miami safe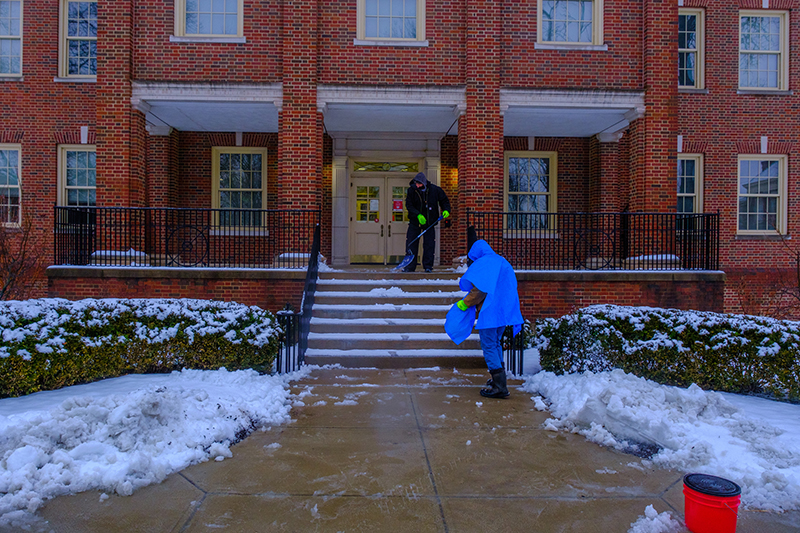 An army of essential workers: a Q-and-A with Cody Powell
February has been filled with plenty of snow and ice, with more forecast to come. Miami's Oxford campus has 38 miles of sidewalks, nine miles of main roads and about 70 acres of parking lots. That means it has been a busy time for Miami's essential staff who keep the Miami community safe, the students fed well and those sidewalks clear.
We touched base with Cody Powell, associate vice president of Facilities Planning and Operations, for a Q-and-A about this army of essential workers.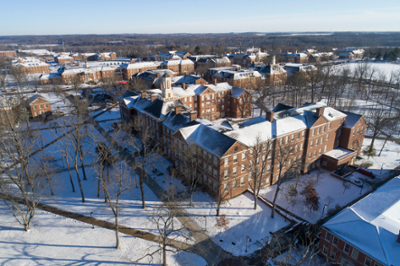 This recent aerial photo of Miami's Oxford campus shows the clear sidewalks near Upham Hall (photo by Jeff Sabo.)
What's the biggest challenge when Miami faces a winter snow warning like we experienced this week?  
Timing is always a challenge. In this case, it was very difficult because students were in residence, which means we need to make sure we are able to get or keep our staff on campus safely to provide safe access for our students, clean residence halls and provide food in dining facilities.
If the weather event happens during the week when classes are in session, it becomes much more difficult for crews to work around vehicle and pedestrian traffic. Finally, the duration of the snow can become a challenge. Many of our dedicated staff stayed on campus for over 28 hours with very little rest due to the length of the storm.  
Tell us about some of the crews and building service workers who keep things running smoothly at Miami.     
Of course, our Grounds crew is central to our snow removal efforts. Most of this dedicated crew worked all night with little to no sleep. We have a small team of volunteer Building Service custodial crew members that perform work outside of their assigned area by hand shoveling steps, stoops and walks. Their regular custodial duties don't go away, so this crew of dedicated employees then performs their regularly assigned work in their buildings. Building Maintenance helped out with hand shoveling building steps, stoops and walks overnight and then again during the day.
The first thing we noticed with fresh aerial shots of Miami's snow-covered campus were the clear sidewalks. How do they get them done so quickly?  
Our teams worked through the night to ensure our students can travel safely to dining facilities or other areas they need to go to on campus.  
Do you have a ballpark estimate of the number of people it takes to clear the paths after a snowstorm such as this recent one?
We had about 45 people actively engaged in the majority of the snow removal efforts. There were plenty of other people or work units that contributed, but these 45 individuals performed the vast majority of the work.  
This time of year, there is always talk that Miami has heated sidewalks. Truth or myth?
We do have one short section of heated sidewalk at our Child Development Center on the Western Campus. What I think people are referring to is our utility tunnel system that crosses the campus. In many of these utility tunnels, there are high pressure steam lines that provide heat to some of our buildings. The steam traveling through these pipes is in excess of 340 degrees, so even though the piping is well insulated, there is still some heat loss.
While the sidewalks are not heated, the heat loss from these steam lines keeps the tunnels warm. Thus, the sidewalks that are the tops of the tunnel are certainly warmer than a sidewalk simply sitting on the earth.