Miami University named one of 20 wheelchair-friendly colleges in first guide for wheelchair users
In a first-of-its-kind guide, Miami University was named one of 20 colleges that create wheelchair-friendly campuses and cultures that promote an inclusive college experience.
Miami University named one of 20 wheelchair-friendly colleges in first guide for wheelchair users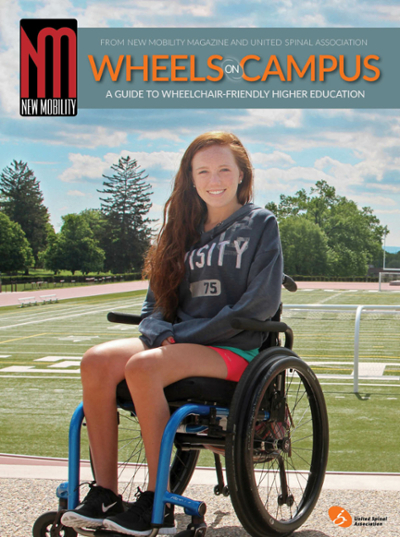 Wheels on Campus: A Guide to Wheelchair-Friendly Higher Education, recently published by the wheelchair lifestyle magazine New Mobility, created the guide in a process that started with a list of 400 colleges and universities highly ranked by U.S. News & World Report.
Researchers surveyed disability service offices throughout the United States and interviewed more than 80 wheelchair-using students and disability service leaders.
"The culture of inclusion can be extremely different at different institutions," said Jean Dobbs, Wheels on Campus project director and New Mobility publisher. "We wanted to find those gems, those schools that really go above and beyond to say, 'Your wheelchair is welcome here, your service dog is welcome here, you are welcome here.'"
The guide's profile of Miami spotlights Dan Darkow, assistant director of Miami's Miller Center for Disability Services, and Miami senior Derek Melton, an integrated social studies education major.
"Our entire Student Disability Services (SDS) team is incredibly proud of this recognition. It is an honor to be listed among these schools who are exemplars in demonstrating a high commitment to accessibility," Darkow said. "Being included in this publication not only highlights great accessibility features on our campus, but also shares our work directly to a community looking for an accessible collegiate experience."  
Melton credits Darkow with his decision to attend Miami. "I chose Miami because of its academic reputation and close commute," Melton said, "But what really sealed the deal was talking to Mr. Darkow and seeing how willing the university was to go above and beyond in providing supports and accommodations."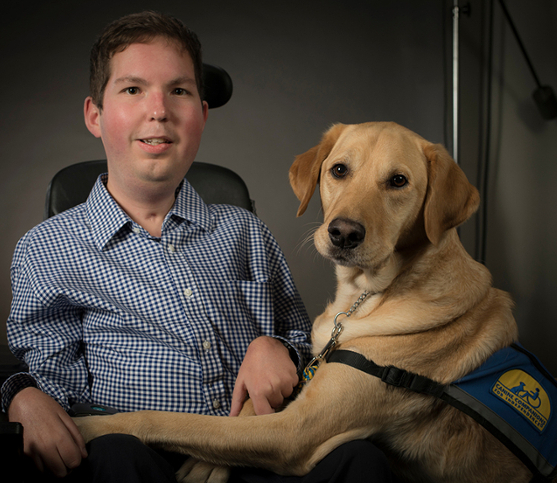 Dan Darkow and Julep (photo by Jeff Sabo).
Some of those accommodations include:
Customized single dorm rooms with attached accessible bathrooms.
Universally designed elevators in Shriver Center and Armstrong Student Center. According to Darkow, Miami may be one of only about about two campuses that has these types of elevators.
A universally designed classroom in McGuffey Hall.
Read about these and more in the Wheels on Campus guide.
Wheels on Campus is available as a free download at www.newmobility.com/wheels-on-campus.
Darkow said, "This recognition would not have been possible without an institutional commitment to accessibility.  I look forward to continuing to make Miami University a place for all students with disabilities.:"